Weighing Indicator K481 Summing
R420-K481 and R423-K481
Product Description
The Weighing Indicator K481 Summing is based on the R400 Series indicator hardware. It shares the same style operator interface and setup menus making it easy for both the operator and the installer. The Weighing Indicator K481 Summing can sum both R300 Series and R400 Series indicators.
Sum Nine (9) Slave Units: The Weighing Indicator K481 Summing can sum up to nine slave indicators from either the R300 or R400 range. These can be connected together on a multi-drop serial RS485 bus or RS232 ring network. The summing indicator polls each of the slave units summing all of the weight readings, and displays the resulting total weight.
Four (4) Subtotals: Up to 4 subtotals can be defined to add or subtract slave values. Each subtotal can be named to assist the operator and for custom printing.
Two IP65 housing types: R420 (ABS) and R423 (stainless steel) each with a high impact polycarbonate lens to protect the LCD from knocks.
Support for R400 Series Modules and Accessories: The Weighing Indicator K481 Summing uses the R400 series Accessories and supports many of the R400 series modules – additional communications modules, button module, input/output modules and analogue module.
Applications: multiple deck weigh bridges, car balancing systems, aircraft weighing, medical bed weighing applications and shipyard centre of gravity ballast determination.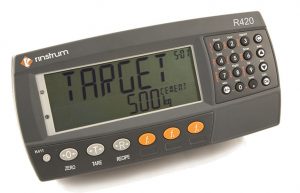 Designed to support applications where balance or relative weight is important.
Up to 4 subtotals can be defined – these subtotals can add or subtract slave weight values.
Car Balancing Scenario four subtotals are defined:
Front Axle = 1+4
Back Axle = 2+3
Left Side = 1+2
Right Side = 3+4
Product Downloads
The following files are available for download for the K481 Summing. Ensure you select the correct documentation for your unit's software version. Check back regularly for software and other updates.
To download files, please click on a filename below. A save dialogue box should appear allowing you to specify your save location.
If a save dialogue box does not appear, right click on the link and select save target as.
Files